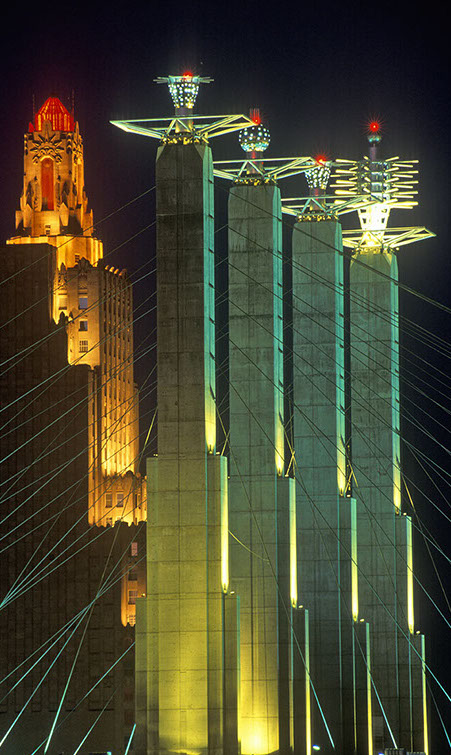 With enough column-free
exhibit space to accommodate
eight football fields, the giant
Bartle Hall building of the Kansas
City Convention Center is topped
by four iconic aluminum and
steel "Sky Stations" designed
by artist R.M. Fischer.
family, relax, travel, explore, grow,
share, learn, contribute, and enjoy
the very best that life has to offer.
Once famed as the launching point
for three of the greatest migration
routes in American history – the
California, Sante Fe and Oregon
Kansas City
ranks #3
among all
cities on Travel
& Leisure's America's
Favorite Cities survey. Trails – Kansas City is now a pioneer in technology and entrepreneurship. After a hotly contested nationwide competition, it was chosen to be the first city in America to receive Google Fiber, the next-generation, gigabit per second internet service that is approximately 100 times faster than traditional broadband. That is only one of the reasons that Kansas City was recently named by PC Magazine as one of the "10 High-Tech Cities You'll Want to Call Home."
As great as life in Kansas City is already, it promises to be even more exciting in the years ahead. With more than $6 billion now invested in its new downtown renovation, the Power & Light District, and billions more flowing into its fast-growing high-technology industries, there is no better place to make the future your own.
One of our company's
most important
competitive advantages
is the extraordinary
talent, energy and economic strength of the Kansas City metropolitan area we call home.
With a vibrant downtown night life that is ranked among America's best by Forbes magazine, and with a powerful track record of innovation and leadership in fields as diverse as communications, global positioning systems, biotechnology, finance and healthcare software, Kansas City offers a combination of opportunity, affordability and culture that makes it truly unique among major American cities.
Add to that our deep roots in America's westward expansion, our mouth-watering barbecue, historic jazz district, outdoor art fairs, great Midwestern values, convenient travel connections to both coasts, a storied major league football franchise – not to mention our World Series Championship baseball team, the Kansas City Royals – and you have the perfect place to build a career, raise a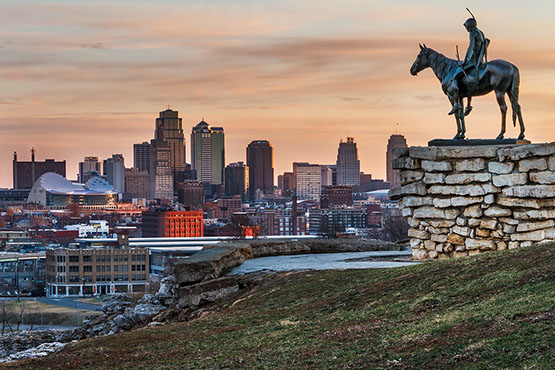 One of the first and most famous
planned shopping districts in the
United States, Kansas City's Country
Club Plaza boasts beautiful
fountains, well-known shops and
sidewalk restaurants (top right).
Overlooking downtown Kansas City,
the Scout statue honors local
Indian tribes, and was purchased
through donations of nickels and
dimes from thousands of city
schoolchildren (bottom right).